The power of online reviews
Posted by Danielle MacInnis on 31 December 2018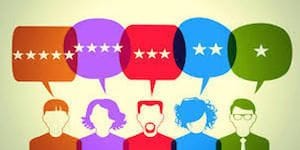 Online reviews have gathered importance as more of us do our researching and shopping online. The opinion of our peers holds more weight than that salesperson and so now it is a no-brainer to check out the online reviews before we purchase anything. From a vucuum clearner to a holiday destination, we all check the reviews first.
There are a few schools of thought on managing reviews but here are my top 5.

1. Know where you are being reviewed
There are several places your customers can leave reviews but here are the top ones you should manage:
1. Google - this is because when you google your company your reviews are listed
2. Facebook - this lists your reviews and indexes them on Google
3. Product Review - this indexes your reviews
4. True Local - or your local business directory
5. Industry association or membership
2. Always respond to a review
Even if it is a poor review, you always need to respond. SHow others that you are willing to take action and resolve any issues. Where possible take the discussion off line.
3. Highlight how to leave a review
If you want to get reviews you have to make them easy to do. Sending a link on your invoices, adding it to your website and asking for them is a good start.
4. Try to keep the reviews to one or two platforms
These days there are so many anvues to review services and products. Try and keep your clients on your two key platforms to build up a reliable base of reviews. Google and Facebook are probably the best platforms.
5.Share the love
If you get a great review, share it in your marketing to show your clients why others love you. You can do this with a feed on your site, add it to your newsletters and brochures.
Check out our Knowledge Hub for a e-book on the Power of Online Reviews.

Author:
Danielle MacInnis
About: Dan is a customer centric marketer and the owner of MacInnis Marketing a company that creates sales and marketing systems to attract customers and employees to companies that they love.
Connect via:
Twitter
LinkedIn
Post comment