Our proven marketing process delivers the results you need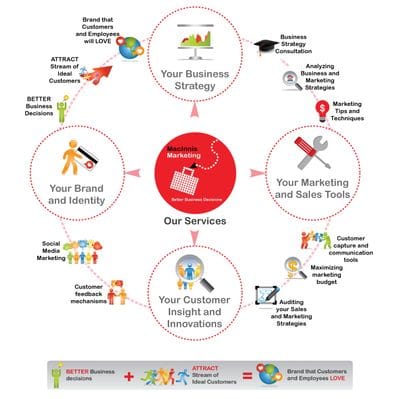 At MacInnis Marketing, we pride ourselves on being methodical, independent, cutting edge, and most importantly customer centric.

We've spent the last five years fine-tuning our own streamlined methodology, the Simple Marketing System. This proven system involves building your marketing from the inside out (focusing on your customer), and then progressing clients along the buyer's journey.
What we are
1. Results-driven
We measure everything we do to ensure the marketing plan we've built together delivers results. At the end of the day, only two results really matter: sales and happy customers. Our clients stay with us because we deliver great results time and time again.

2. Rhythmic
If you're looking for a one-off campaign to create quick leads, you're in the wrong place. We create long-term, sustainable sales and marketing engines that will continually feed your business opportunities in good times and bad.

3. Passionate about education
We educate you and your team so that you understand how to make better sales and marketing decisions everything from advertising on Facebook to segmenting your list. There's no point getting to the end of our time together and finding you haven't learned anything along the way.

4. IT geeks
We love adopting new technology, so if there's a faster, better, or more economical way to do something, we're onto it. This is a real differentiator for us, as technology and marketing are so interconnected. Come and geek out with us on our Stuff We're Into page it's awesome!

5. Thought leaders
We don't just sit on our laurels. Danielle MacInnis is a recognized thought leader, who is continually called on to present at speaking gigs, and is regularly published in online and offline small-business publications. She also authors a blog that gets over 3000 hits a month, with 4000 subscribers and growing, as well as a podcast where she interviews global marketing experts. Danielle is a Certified Practicing Marketer with the Australian Marketing Institute and privately coaches several students through her other company Brain Jam.

6. Independent
We pride ourselves on being independent and always recommend the right solution for our clients' needs, be it a software or service provider. We're completely vendor agnostic, so you can trust that we'll always offer you objective advice.

7. Collaborative
We work both for you and with you. After all, marketing is a process and it works best when we come together as a team and share collective knowledge to make the best marketing decisions. No one knows your business like you and we believe we're great at what we do. Together, that's a winning formula for growing your business.

8. Fun!
We work hard, we play hard, we think outside the box, and we absolutely love what we do.

What we're not
We don't implement one-off, short-lived tactical campaigns without clarifying your marketing strategy first. Why? Because we don't believe it's a good way to spend your money.
Our specialty is working solely with service-based businesses. Our methodology has been purpose-built for this particular niche, and this is where we do our best work.
We get on with the job and execute it. If you have a large organisation that cares about titles then we are not for you.

Think we'd work well together? Use the popup below to schedule a free, 15-minute coaching session.