On average, 76% of Aussies use the internet as their primary way to shop
Posted by Danielle MacInnis on 25 August 2021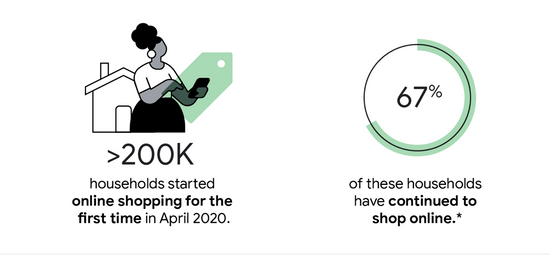 Buyer Trends
On average, 76% of Aussies use the internet as their primary way to shop, according to Google. In this article, I explore some of the trends that Google have identified in our consumer behaviour over the past 12 months.
The rise of shopping online has been accelerated by the current market conditions, no doubt.
"Consumers are becoming more open-minded as they adjust to new ways of shopping. One in 3 Aussie consumers told us they tried a new retailer during the pandemic and are considering buying things online they used to exclusively purchase in stores, such as groceries."
We know that the summer months bring with it usually, the biggest spend from consumers with the end of year sales and Black Friday. With the restrictions on travel that spend (for those still in engaged employment) will be available for other purchases.
We have already seen spend on casual, comfort wear, and more time searching for gifts this year. We have more time to do that online research.
Trends include:


Some tighter wallets because of the COVID's impact on personal finances so are more budget-conscious
Paying more attention to where products come from
Open-minded to buy from new retailers
Wanting to buy local - emphasise this in your marketing.
Paying more attention to sales
We search online even if buying an instore
Social distancing and lockdowns have made us miss our loved ones. That's why consumers feel like Christmas will be "even more special.
Customer behaviour is changing with new regulations, so you may be wondering what your specific customers need from a business like yours right now. Consider asking them directly via your social media channels. You can also use tools like Google Trends, Google Alerts, and explore the fastest rising retail categories in Google Search for more insights.

Author:
Danielle MacInnis
About: Dan is a customer centric marketer and the owner of MacInnis Marketing a company that creates sales and marketing systems to attract customers and employees to companies that they love.
Connect via:
Twitter
LinkedIn
Post comment