10 tips to market effectively with Instagram
Posted by Danielle MacInnis on 26 June 2020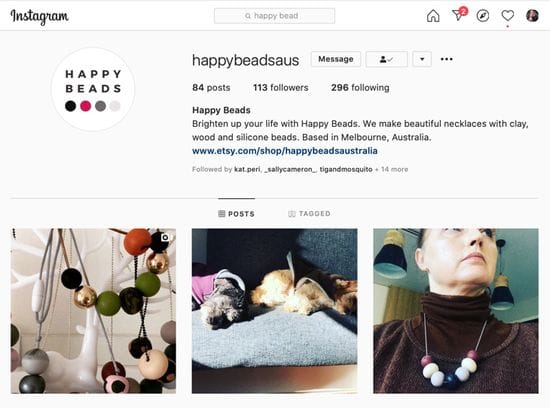 Instagram is a popular social media markeitng tool, especially for those businesses that have the opporunity to share beautiful images. With over 1 billion users it is something that small business shouldn't use. More than 500 million of whom use Instagram every single day, sharing an average of 95 million photos and videos per day.
Why Instagram?
Instagram, brands enjoy regular engagement with 4 percent of their total followers. On networks like Facebook and Twitter, engagement is less than 0.1 percent. (source: Forrester)
70% of Instagram users report having looked up a brand on the platform (source: Iconosquare)
62% of users follow a brand on Instagram (source: Iconosquare)
Only 36 percent of marketers use Instagram, compared to 93% of marketers who use Facebook (source: Selfstartr)
Here are 10 tips on how to use instagram to do more effective marketing
1. Set up your Bio - The third one, your bio link, is often neglected by many small businesses. You only have one link on Instagram so it's up to you to use it well. Unlike many other social networks, Instagram doesn't allow you to add links to every post. Instead, you only get one link, and that's the one in your profile. You can use tools like Linktree.com to expand your single bio link on Instagram. Talk to your audience in your bio and keep it short and relevant.
2. Add a call to action in your Bio feed. Some examples of CTAs you execute with posts and Stories are:

Asking users to tag a friend
Asking users to "Double-tap" (or Like) if they agree with the post
Clicking the link in your bio to get a freebie
Purchasing products highlighted in your post
Responding to a Story using different engagement stickers, such as the Questions or Poll stickers
3. Maximise the use of Hashtags. These are an important tool in helping promote your brand with the platform and get discovered by users following said hashtags. Balance the use of popular hastags with the niche you need to catpure to gain the right audience. 100 of the most popular hashtags.
4.Engage with your ideal customers as a priority. Comment on their posts, and provide value in every interaction you have. Reply to their Stories, and overall aim to establish a relationship with them. By doing this you might be able to identify influencers of your brand. Instagram marketing strategy is to post consistently quality content that aims to build Buffer's brand while also connecting on an individual basis with our community members.
5. Comment on niche accounts. Find related niche accounts, engage with their posts by leaving high-value comments that show your expertise or brand personality. This works because you can potentially reach your own followers among these bigger niche accounts.commenting valuable points on these accounts' posts, you show potential followers and leads that you too are an expert, thought leader, or valuable brand they ought to engage with. Look for publications and media accounts whom you can engage with, not necessarily your competitors. Even influencers in your niche can be a valuable place to leave smart and engaging comments, especially if the influencer has an engaged following themselves.
6. Offer an attractive lead magnet. A lead magnet is an offer you promote to customers in exchange for their email address or other contact information you may request. Doing this helps you build an email list that can help in acquiring customers online. Examples include: PDF downloads, exclusive training videos, or even discount codes.

7. Use the 80/20 rule. Promote your content 20% and 80% of the time engage. If you are too self-promoting your account will look spammy. Remember social media isn't for selling first but engagement and building trust first.
8.Use social media analytical tools like Hootsuite, Sprout Social, Buffer. Data is power, and this couldn't be more true with social media analytics. Use this data to help nurture your business as you plan for more data-driven campaigns to grow your brand.
9. Stick with a brand theme - Instagram is a platform that is visual. By sticking to your brand colours your content can be more attractive and gain more brand awareness. Without this consistency your brand can look not as professional as some. The foundations of any strategy are built on solid content pillars or themes. Some example content pillars include (but aren't limited to):
Behind the scenes content
User generated content
Product demos / showcase
Educational (e.g. the best social media tips)
Culture focused (showing the human side of your company)
Fun / lighthearted
Customer stories
Get to know the team
Team member takeovers
10.Focus on quality over quantity - It is important to gain traction with the right people. Focus on engaging with the followers you have rather than looking to engage with as many as you can.
Bonus tip: Canva tool is your friend for editing your imagesd before uploading to your mobile to share.
Image Sources: buffer.com

Author:
Danielle MacInnis
About: Dan is a customer centric marketer and the owner of MacInnis Marketing a company that creates sales and marketing systems to attract customers and employees to companies that they love.
Connect via:
Twitter
LinkedIn
Post comment