What you need to know about SEO for B2B and B2C companies
Posted by Danielle MacInnis on 27 November 2017
A whopping 93% of all online experiences begin with search engines.
That's reason enough for companies to pay attention to their SEO. Search engines can be an excellent resource for driving traffic, but what about leads? Studies show that online search is often the starting point of the buying cycle.
B2B decisions are usually made up of more than one person, and they usually put price or cost in their searches.
B2C decision making is much more straight forward.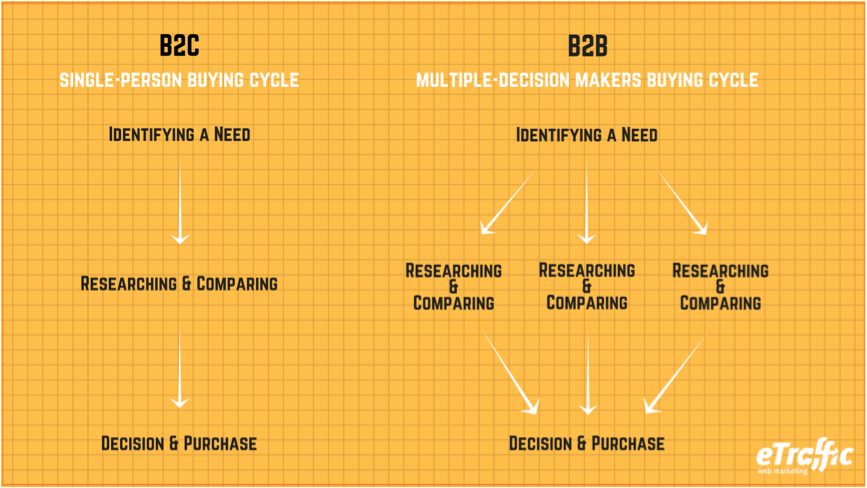 Some key hints for ensuring your SEO is working for you and not against you. In case you're wondering if it's worth the investment in such a commitment:
98% of searchers choose a business that is on page 1 of the results they get.
88% of consumers trust online reviews as much as personal recommendations
77% of smartphone users contact a business after looking for local Information
Quick Overview: This will include checking index pages, reviewing Google Analytics and doing a mobile-friendliness test.
On-page Optimization: This involves optimizing any title tags, checking for missing titles or descriptions, correcting any keywords in H1 tags and optimizing image sizes.
Content: This includes reviewing your homepages and landing pages for optimal keywords, removing keyword-stuffed content, and analyzing your click-through rates (CTR).
Duplicate Content: This ensures that no content on your Hub is plagiarized or duplicated.
Accessibility and Indexation: This involves the technical code of your site, such as Javascript, CSS and your robots.txt file, which Googlebot will crawl to index your site.
Site Architecture and Internal Linking: This is an audit of your internal and external links.
Technical Issues: This includes any redirects, errors, URLs, and other technical elements that might be broken or outdated. You can find these errors easily through sites like Google Search Console or Ravel Tools.
Site Speed: This involves site speeds (not to be confused with page speed) on both your desktop site and your mobile site, hosting speed connection and more.
Mobile: This is an audit of your mobile user experience and analytics.
International: This includes a review of any international versions of your URL, country-based targeting and overall URL structure.
Analytics: This ensures that your Google Analytics or other tracking metrics are set up properly and that your AdWords and other campaigns are properly linked.
For more information about SEO visit our Resource section

Author:
Danielle MacInnis
About: Dan is a customer centric marketer and the owner of MacInnis Marketing a company that creates sales and marketing systems to attract customers and employees to companies that they love.
Connect via:
Twitter
LinkedIn
Post comment