Traditional TV is dead - as You Tube takes over
Posted by Danielle MacInnis on 2 January 2019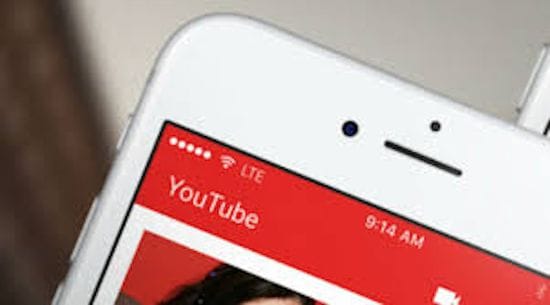 I know that my son who is a teenager never watches TV. He is on his phone or ipad or computer watching You Tube mostly. He is not alone. You cannot talk to someone under 25 who doesn't watch YouTube. For many of them, it is exclusively what they watch. Hence, it's the new television.
A study in 2017 revealed the not-so-shocking statistics of television viewership. The biggest takeaway from this study lies within the 18- to 24-year-old age group, where nearly half of this group's traditional TV viewing time has moved to other platforms in the past five years. In the last year alone, monthly viewership dropped from 76 hours and 55 minutes to 64 hours and 21 minutes.
YouTube also has something for everyone. The possibilities and choices are endless, resulting in an establishment of various niche audiences since it has everything from stereotypical cat videos to full-blown educational series.

While we move to consuming media that is more individualised in terms of when we consume it and what we consumer, this has given rise to a new way to advertise called Programmatic buying. Programmatic buying "the method by which all advertising will come to be bought and sold like search ads on Googleauction based, with the buyer paying whatever price an ad is worth at a given moment. It's buying specific audiences using lots of data to figure out the right ad, the right person, the right time."
Google study states that by 2025 half of viewers under the age of 32 will not subscribe to a pay-TV service. This means that they won't receive your traditional TV ads, and even if they do, it'll be expensive and less relevant. By 2025, millennials will account for three-quarters of the world's workforce. Now there are cheaper better choices. You Tube is trying longer-format television-type series. This competitive move is in response to the rise of original series creations by Netflix, Amazon, and Hulu.
Debbie Weinstein, the managing director of YouTube's Global Video Solutions, said in a post, "Advertisers will be able to get both the most popular YouTube content and traditional TV content in a single campaign plus, we'll dynamically insert these ads, giving advertisers the ability to show relevant ads to the right audiences, rather than just showing everyone the same ad as they might on traditional TV."
TV serves approximately eight minutes of high-cost ads per half hour. The system is in place and brings in an enormous amount of revenue without having to do anything new or different. On YouTube, you're lucky if you can run a fifteen second ad before your video without your audience flipping out
Online Video Trends
By 2025 half of viewers under the age of 32 will not subscribe to a pay TV service
6 out of 10 people prefer online video platforms to live TV
In 2015, 18- to 49-year olds spent 4% less time watching TV while time on YouTube went up 74%
On mobile alone YouTube reaches more 18- to 49-year olds than any broadcast or cable TV network.
Among millennials YouTube accounts for two-thirds of premium online video watched across devices.
TV use to mean reach, but You Tube is world wide. You Tube means reach and engagement. YouTube is not only a more engaging platform than TV, it's where your customers live. While reaching them has never been easier, finding the correct channels and ad types is a little trickier.
Here is Hubspot You Tube's Marketing Guide.

Author:
Danielle MacInnis
About: Dan is a customer centric marketer and the owner of MacInnis Marketing a company that creates sales and marketing systems to attract customers and employees to companies that they love.
Connect via:
Twitter
LinkedIn
Post comment