Personality and content
Posted by Danielle MacInnis on 11 November 2016
We know what these days we are sharing our attention with multiple devices or screens. It begs the question which type of reader are you?
Are you the Skimmer, Sponge or socialite?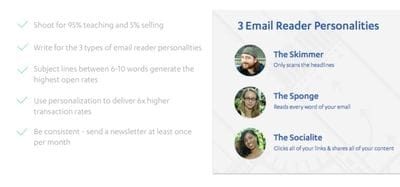 Face it most of us are lazy so how do we capture attention?
Dot points

Font sizes

Colour
Images
Video
Eye-tracking studies show that online readers tend to skip large blocks of text.
Nielsen holds that on-screen reading is 25 percent slower than reading on paper
Choose a default font designed for screen reading; e.g., Verdana, Trebuchet, Georgia.
Rest your eyes for 10 minutes every 30 minutes.
Get a good monitor. Don't make it too bright or have it too close to your eyes.
Minimize reflections.
Skip long lines of text, which promote fatigue
Tag your posts so people can find what they are looking for
Learn more about how our communication is changing
Third Screen - Book

Author:
Danielle MacInnis
About: Dan is a customer centric marketer and the owner of MacInnis Marketing a company that creates sales and marketing systems to attract customers and employees to companies that they love.
Connect via:
Twitter
LinkedIn
Post comment