Only 5% of B2B buyers are in-market to buy right now
Posted by Danielle MacInnis on 6 September 2021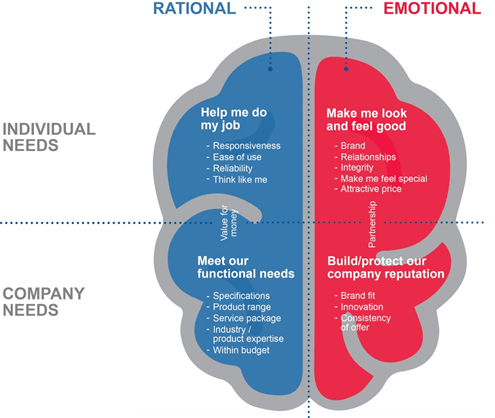 B2B marketing targets the needs, interests, and challenges of individuals who are making purchases on behalf of, or for, their organization (rather than for themselves), thus making the organization the customer.
95% of these buyers that you reach are out-of-market and won't buy for months or even years. And, contrary to popular belief, you cannot persuade the buyer to go in-market because they already have what you're selling and won't need a newer version any time soon. Only 5% of B2B buyers are in-market to buy right now, according to Dawes of the Ehrenberg-Bass Institute.
Forget seeing results from a campaign two weeks down the track. B2B just doesn't work that way. You can't push a B2B sale. You need to be top of mind however when that buying need does come around. You need to develop strategies that get your product or solution remembered. Dawes in his research says most marketers are doing it wrong and focusing on the 5% of B2B buyers that are ready to buy now, rather than the 95% that are not yet ready to buy.
Dawes rules are
Expect sales results mostly in the long-term, not in the short-term.
Develop creative that will be remembered mostly by future buyers, not current buyers.
Maximise reach mostly against out-of-market buyers, not in-market buyers.
So creating quality content allows these businesses to establish their brand/positioning, connect with their target audience, and prove their credibility/authority. Engaging prospects through a value-driven and educational approach just works better than using push marketing for many B2B companies.
Here is a chart from Gartner showing how complex a B2B sale process can be.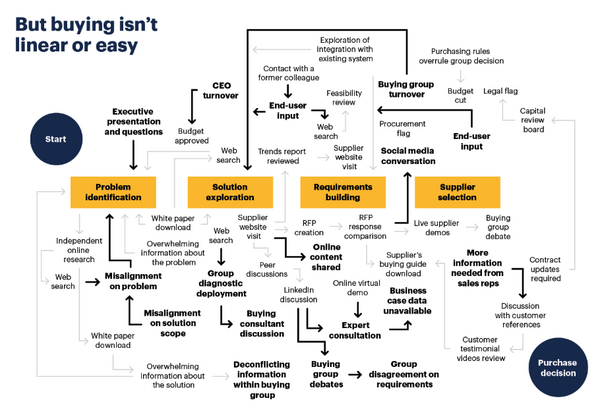 Author:
Danielle MacInnis
About: Dan is a customer centric marketer and the owner of MacInnis Marketing a company that creates sales and marketing systems to attract customers and employees to companies that they love.
Connect via:
Twitter
LinkedIn
Post comment