Moving from product focused to customer focused
Posted by Danielle MacInnis on 22 December 2015
Moving from product to customer focused
It is a common place to find a business all wrapped up in its product or service. Sure most of you are aware that the customer is your bread and butter but do you orientate your business around putting the customer at the middle? Most of us never get the time to sit and think about our business. We are so busy on that treadmill. We are flat out responding to the demands for more for less. To capture the value of your business it really needs to well thought through. It needs your consideration, rather than your jerk rection. It all starts and ends with your customer needs and your business model. Are they aligned or out of date?
Do you own a market space, a position in the mind of key customers that no-one else can compete in? To do this you need clarity. See the Design Integration Framework.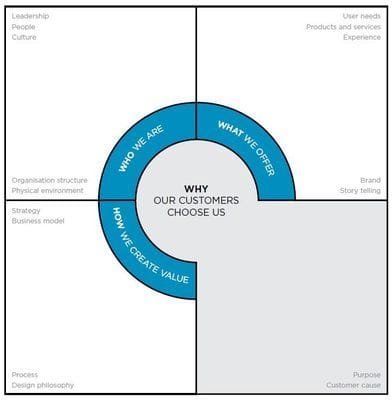 Who we are
What we offer
How we create value
The first task is to shift the mindset of your company - to put customer at the centre of all that a company does. Once this is achieved, we can help build capability and skills so that the business can develop globally-leading products and services that transform markets and sectors.
Three steps you can do over the holidays to start the process:
1. Talk to your customers. Ask them what they liked and what you can improve. (or use our survey or mystery shopping service)
2. Map out your story. Why do you exist? What are your customer promises.
3. Plan for 2016. See our marketing planner.
See our customer service design solutions.

Author:
Danielle MacInnis
About: Dan is a customer centric marketer and the owner of MacInnis Marketing a company that creates sales and marketing systems to attract customers and employees to companies that they love.
Connect via:
Twitter
LinkedIn
Post comment