Marketing Scoreboard
Posted by Danielle MacInnis on 29 July 2015
If you are doing any sort of marketing you should be keeping a metrics checklist so you can see what is working and what isn't.
Creating a scorecard can be as easy as creating your on Excel Spreadsheet or as an elaborate as using marketing dashboards provided through your CRM or Conversion Software.
What should you be tracking:
General Google Analytics statistics like unique visitors, time on the site, bounce rate, source
Ecommerce Statistics - $$ by source, by campaign, by ad
Online Goal Statistics email submissions and downloads by source, by campaign, by ad
Phone Tracking software (to track people who are phoning from viewing your site) by source, by campaign by ad
Phone Tracking without software keeping track of queries and asking not only if they came from your website, but what did they search, did they use Google, Bing, etc, Do they recall if it was an ad or an organic listing.
iStock_000017090741XSmallSocial Media - # of followers, # following, # of visits to the site from social media
Referrals record the name of the referral not just the word "referral"
Offline Marketing Initiatives - if sending to the website, try to use an original url so you can track responsiveness better. If phoning, then see phone tracking above.
Newsletter and other Subscribers (like eBook downloads, for example)
Summarize - # of leads (subscribers), # of inquiries, # moved into nurturing stages (proposals, follow up campaigns), # of new sales, # of repeat sales (if tied to marketing and if not these shouldn't be included in your marketing ROI except to help you determine the long term value of the client).
This seems like a lot. But if you invest in setting up your Google analytics properly to track ecommerce conversion, or goals like forms and phone tracking, a lot of the online numbers will be looked after for you. Set time in your calendar or an assistant's to add these in monthly to your scorecard and review the results. Seeing the numbers month to month, helps you to make changes more quickly and see where the increases are happening.
Each month with my clients are review marketing activities and sales to look at what is and isn't producing.
Here are some suggestions as to what you should be looking at:
Your Marketing Scorecard
Are you seeing overall increases as well as specific increases from one area?
Are you seeing any anomalies (something has either increased or decreased by a large amount, in which case you'll want to dig into these)?
Are you seeing some progress in soft metrics (by these, I mean activities that could have potential down the road social media followers, visitors to the site, e-book downloads, email subscribers)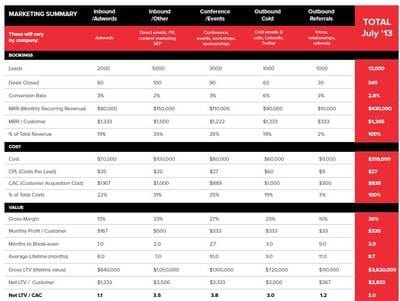 Leads
Are you seeing an increase in leads?
Where are they coming from?
Is the cost per lead on track?
Are the leads converting?
If leads are converting which campaign(s) are converting the best?
How many leads is it taking to convert to a sale?
If different than what you expected, work out the new cost per lead?
Sales
Are you seeing an increase in sales?New_Arrival_red
Where are they coming from?
Is your acquisition cost on track?
Which campaign(s) have been contributing the most in terms of sales?
Marketing Costs
Are these on track?
Have you spent more or less than expected in any area?
Where do you want to make changes based on the previous period's performance?
Does this seem overwhelming? That's because it is to some degree. Of course for smaller companies, it's easier to answer these questions than it is for larger companies. However, if you want to be as effective as you can be with that precious marketing budget then it's all worth it. The results might even surprise you!
Join the marketing portal to access marketing metric scorecards today for less than a coffee a month!

Author:
Danielle MacInnis
About: Dan is a customer centric marketer and the owner of MacInnis Marketing a company that creates sales and marketing systems to attract customers and employees to companies that they love.
Connect via:
Twitter
LinkedIn
Post comment