Is your customer at the centre of your business?
Posted by Danielle MacInnis on 7 September 2017
Currently I am reading a number of books on customer centricity and the latest is Outside In from the forester researchers Kerry Bodine and Harley Manning. Their research has outlined that we are not managing the customer experience very well so far and that we should really have an inside out approach to business with the customer in the centre of all our decisions. Not only is this a good strategic decision but with customers now controlling the market it might just be a matter of survival. Outside In
What I really love about their book is how they define customer experience as every interaction that a customer or potential customer has with you. From the point at which they discover MARS Forrester Research Outside In book you to the moment of purchase to each touchpoint in the ongoing relationship. It is this journey that I feel is so critical to manage and the reason I have built a framework on called Strategic Service Design.

Key Take Aways from the Book: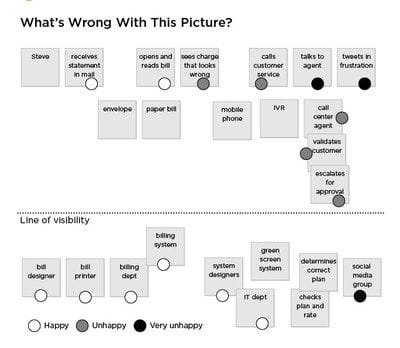 1. Customer experience can be a real key differentiators for your business because it is hard. The experience can go from missing (we don't do that at all) to adhoc (we sometimes do that) to repeatable (we have a process so that mostly happens) to systematic (We have process that is an system and we follow it).
2. It is holistic and involves not just your customer facing employees but goes across every process and product of your company's ecosystem. It requires discipline, insight and commitment. Not only do you have to find the moment of truth and disconnects, you need to fix them and that is even harder.
What's wrong
Forrester Resarch Outside In Book
3. It is made up of all those little things that the customer finds important. How do you know what they are unless you ask.
4. A customer experience is not a nice to have, your customers now have an amplified voice and vote with their feet and clicks. According to Forrester customer experience laggards have a much worse growth rate.
5. Customer Mapping is a starting point to understand what is happening and rather than finger pointing, work collaboratively for the customers journey to be better.
6, Real change, that becomes a systematic approach needs to have an important place at the CEO management table.
7. Outside In describes six disciplines of customer experience.

Strategy:what is your plan for customer experience. It is unique to your business and customer.
Customer understanding: you need to understand your customers and what they are thinking and feeling.
Design: Yes you can design an experience. It is how your customers interact. This is where creativity and customer centricity is vital to getting this design just right. It has to be practical, doable and meaningful for the customer. It is hundreds of tiny little moments that can make the customer journey memorable.
Measurement: you need to measure it to manage it. Perceptions, activity, intended behaviours. You need all three.
Governance you need rules and accountability so you can see where the problem lies and fix it. It is not finger pointing but team work.
Culture only if you hire the right people with the right attitude and values will a customer experience become your point of difference. It is in those little moments and interactions when the culture will ensure that consistently the customer comes first.

Author:
Danielle MacInnis
About: Dan is a customer centric marketer and the owner of MacInnis Marketing a company that creates sales and marketing systems to attract customers and employees to companies that they love.
Connect via:
Twitter
LinkedIn
Post comment