How to save money as a small business
Posted by Danielle MacInnis on 23 June 2022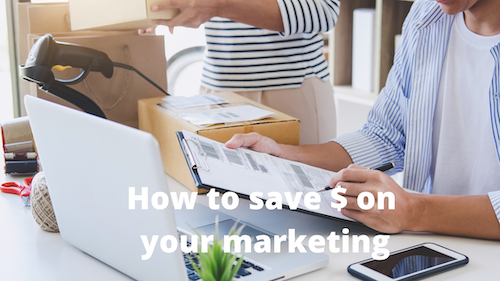 Right now it seems like all expenses are going up and running a small business can be stressful at the best of times but when it looks like we are heading into a tight money market, it places even more stress on business owners. I have some money saving ideas to help you save on your small business marketing budget.
Key ways to reduce your marketing costs
1. Photography - these costs can be steep and well worth it but are also a way you can trim your marketing budget. By using user generated content UGC- photos you can have some awesome images of your products or services. By asking on your product packaging or thank you cards, asking for a Google Review and offering them an incentive by way of discount on their next order and collect some great images. Even running a competition can be an affordable way to create some imagery to use on your socials and web. Other sites like unsplash are sites that have great stock photos and using tools like Canva can help you customise imagery to your brand. People love to see other people using your products and services. Make sure you get approval from the user.
2. Email Clean - remove people from your database that never open your emails. These can be remove these unwanted contacts and save on your subscription fee. While you are doing this cancel any subscription that you are not using!
3. Creative Brand Promotion - Do your own PR pitch. This is reaching out to some editors within the niche you serve. Making that pitch relevant and likely to be picked up means having a good hook. Look at our Knowledge hub under PR to find resources. You can also dm some influencers and offer them some product or services to promote. PRwire is a great free tool to promote your article.
4. Tik-Tok - can be a great way to build awareness without spending money on advertising. It is quick and easy to do. Checkout our blog on how to do Tik Toks.
5. Pinterest is another great tool to build awareness and you can also share your ideas, expertise or curation on a topic. With the design,art and craft and even small business market, Pinterest is a under used tool. Currently I get more views of Pinterest than any other medium, over 1.7k per month!
6. Hire a VA - hiring a virtual assistant can be a good investment to save money and time. However don't underestimate the time it takes to set up and train someone. I have had some success on Upwork and also with students in Australia. You have to think what is your time worth and those repetitive manual tasks are worth handing over to someone else so you can spend your time on the things you are best at.
7. Make the most of sales for software you use - if you do have to use software to run your business, watch out for those sales. I use Grammarly , Evernote, Canva, Freshbooks , Mailchimp and sometimes these have great savings at times. Also consider downgrading or cancelling if you are not using them constantly. Many have a free version that is worth using when business is slow.
8. Free training and tools - Keep a look out for free training and tools that can help you grow when times are tough. We have a number of free training courses that you can use to upskill and also have a list of free e-books and tools.
9. Grants and Funding - don't forget about grants and funding for small business on your state gov website. Business Australia has a great website to assist you find if there is any funding available for your business.
10. Create valuable content - As an expert in your business answering those FAQs in a video, blog, podcast or fact sheet is all valuable content for your potential and current customers. A side benefit is Google loves this. It helps you get found and saves on spending on advertising. One good piece of content can create a loyal list of followers and prospects. Think about what information, resources or questions you can answer for your clients and you could be onto that golden lead magnet!
Costs you can't avoid
You have to spend money to make money and some costs can't be avoided. Web hosting, insurances and taxes. Of and of course talented marketing consultants!

Author:
Danielle MacInnis
About: Dan is a customer centric marketer and the owner of MacInnis Marketing a company that creates sales and marketing systems to attract customers and employees to companies that they love.
Connect via:
Twitter
LinkedIn
Post comment