Great free marketing e-books
Posted by Danielle MacInnis on 21 July 2016
One of the commitments I make each month is to read a marketing or business novel. There are hepas of them on the web now that you can read online or listen two via Audible.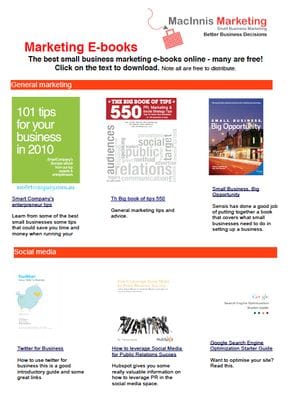 Here are my list of marketing book samples for you. You can also discover more books at our Marketing Portal. Here is a sample.

Save
Save
Save
Save
Save
Save
Save
Save

Author:
Danielle MacInnis
About: Dan is a customer centric marketer and the owner of MacInnis Marketing a company that creates sales and marketing systems to attract customers and employees to companies that they love.
Connect via:
Twitter
LinkedIn
Post comment