Bricks V Clicks
Posted by Danielle MacInnis on 7 February 2017
Digital technology is transforming how we shop, and almost every way we communicate. As we embrace digital technology, retailers need to adapt to this behaviour.
The traditional department-store format is driving less traffic to shopping malls as consumers move their retail activity online. With online retail creating choice overload, consumers are beginning to appreciate curated retail concepts. "Pop up" stores that provide distinctive products for a short period are one significant response.
Amazon has unveiled Amazon Go, a physical grocery store with no checkouts or cashiers.
The technology that lets customers walk out without scanning items is likely to include AI, sensors and Bluetooth.
The radical new concept could mean cost savings for the business as well as a unique understanding of shopping behaviours.
Known as Amazon Go, the store concept entirely does away with payment terminals. Instead, customers walk in, scan their smartphone, take what they want, then just walk straight out.
Amazon likely realised it needed to develop a fuller experience delivering convenience, product and price to win a larger share of customer spend. Amazon Go is its attempt to do that. Retailers must now envision themselves no longer as real estate brokers, but instead as customer-facing providers of shoppable entertainment.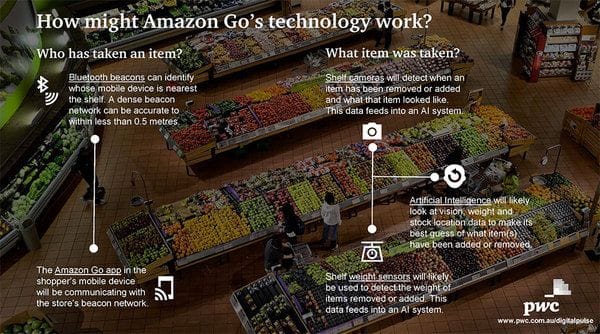 Author:
Danielle MacInnis
About: Dan is a customer centric marketer and the owner of MacInnis Marketing a company that creates sales and marketing systems to attract customers and employees to companies that they love.
Connect via:
Twitter
LinkedIn
Post comment