Being Rewarded and Recognised feels good!
Posted by Danielle MacInnis on 29 November 2015
This week I was named a finalist for Flying Solo's Marketing Marverick Award in 2015. It was really nice to be recognised for what I do all day (just about every day) with small businesses. I realised this month that I have worked with over 100 small businesses since I started my business, coming up on 10 years next year. It is a really great job and I love it. Working with businesses that are driven to make things happen, who are closer to their customers and build a relationship with me that makes me feel lucky. I am really thankful for all the nice wishes and work that I have been able to do.
Learn more about the Awards here.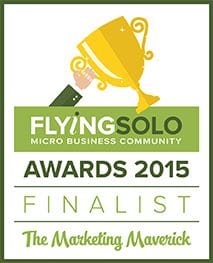 Maybe it is time you were recognised for your hard work. Is there an award you should be nominated for?
Here are some I have found for small businesses

Author:
Danielle MacInnis
About: Dan is a customer centric marketer and the owner of MacInnis Marketing a company that creates sales and marketing systems to attract customers and employees to companies that they love.
Connect via:
Twitter
LinkedIn
Post comment