Educate and change the world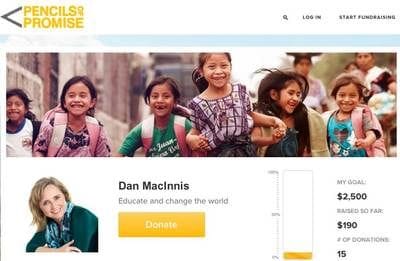 Pencils of Promise works with communities across the globe to build schools and create programs that provide education opportunities for children, no matter where they were born, or what resources they have. Pencils of Promise has broken ground on over 150 schools throughout Laos, Nicaragua, Guatemala, and Ghana.
Education is a cause that's truly important to me, so I'm excited to join the Pencils of Promise movement that empowers lives around the world by increasing access to quality education for children in the developing world.

My dad was a big believer in learning and while life long learning happens in an out of the classroom, the opportunity to realise your potential can be greatly enhanced by learning to read and write. I hope to give others this opportunity who would otherwise never have that chance.
Please help me reach my fundraising goal by donating today. Just $25 allows Pencils of Promise to give a child access to education for one year. Thank you for your support. Everyone has promise. Education unlocks it. Help me build my first school and name it after my dad. Donate here.