Challenge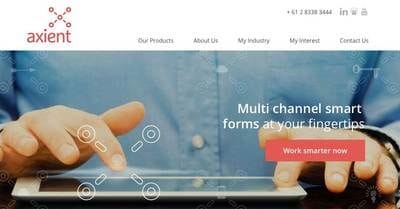 Axient had an identity crisis when I met up with Managing Director Mark Howarth in 2013. Mark was trying to reposition Axient but telling their story was confusing,the web was hard to navigate and they really needed a strategy to pull all the marketing together. Mark knew he needed an integrated approach.
Approach
Here's what we worked on:
A SMP - strategic marketing plan that would set the direction for the business and identify what needs to be done.
A branding refresh - we worked with Hello Creative to develop the Axient brand so it was always clear and consistent.
We worked on a content plan so that we could segment the communications by market, buyer journey, industry and role. We revisited all the content on the web and engaged a copy writer to communicate the value proposition statement and key copy for the website.
We worked on the key tools we needed to create an end to end sales and marketing system including implementing Bloomtools.com for lead nurturing and web content management.
Result
Axient now has a regular communication their customers and regular campaigns to nurture prospects using segmentation. Refining the brand and creating a new website and articulating the value proposition of Axient as well as setting up a marketing and sales system was a turning point in Axient's business.
We delivered
Quote from client:
"Dan's process driven approach combined with her passion for strategic marketing helped me put in place a foundation for marketing. We gained brand clarity, vision and values which resulted in continued sales growth. I recommend Dan for any CxO who requires a great marketing mind with backed by strong commercial acumen."
Mark Howarth, Managing Director"